AOR Founder (on hiatus)
Staff member
AOR Admin
Jan 12, 2014
17,686
13,616
AOR F1 Leagues - Season 12
PC - Initial League Placements
Below you can find an overview of the league tiers and driver placements for Season 12 of the AOR F1 Leagues on the PC platform!
When deciding the leagues we have tried to follow the guidelines stated in the league information thread (as quoted below), meaning the time trial times have played the biggest role, with performances in the evaluation races and past league experience coming into play in some cases (particularly to place drivers on the edge between two tiers).
Note that drivers who failed to submit time trial times have not been included in the placements, while drivers who failed to attend at least one evaluation race (without giving us any notice for it) have been included, but have lost their priority in the car picking order.
● Driver placements:

When setting up the leagues for a new season, we always aim to make the leagues as close and competitive as possible, by placing drivers where they best fit into the league structure in relation to their pace.

With this being a new season on a new game, both returning and new drivers will be placed in leagues based on the times submitted in the official time trial event, as well as race pace data from the mandatory pre-season evaluation races (this only applies for pre-season sign-ups). Experience from previous season(s) may also be taken into consideration to some extent, but less so than usual.

Each league will generally allow a full grid of 22 drivers (plus reserves), although Tier 1 leagues may be limited to 20 drivers in order to accomodate live broadcasters, if this can be arranged.
League Placements:
Below you can see which league tier each driver has been placed into. Drivers are ordered within each league based on priority in the car selection order (see
here
for more info).
Each league will have its own forum section where more information about the league - including a dedicated thread for car selection - will be posted shortly.
League forums:
Tier 1
/
Tier 2
/
Tier 3
/
Tier 4
/
Tier 5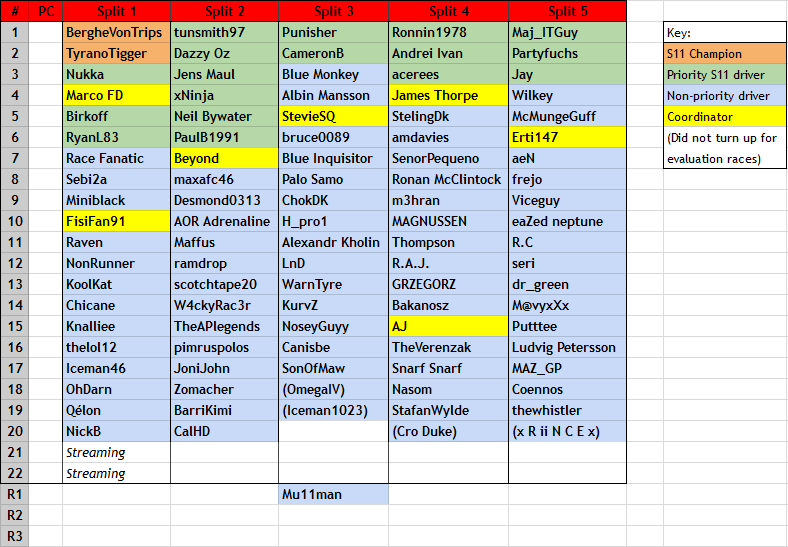 Time Trial Leaderboard:
For anyone who is interested, below you can see the full results from the Time Trial Event, with all drivers sorted from fastest to slowest based on the combined time from all 3 tracks.
Note: Please remember that while the time trials were our main basis for determining the leagues, it was not the only consideration, hence why some drivers' position on the leaderboard may not fully reflect their league placement.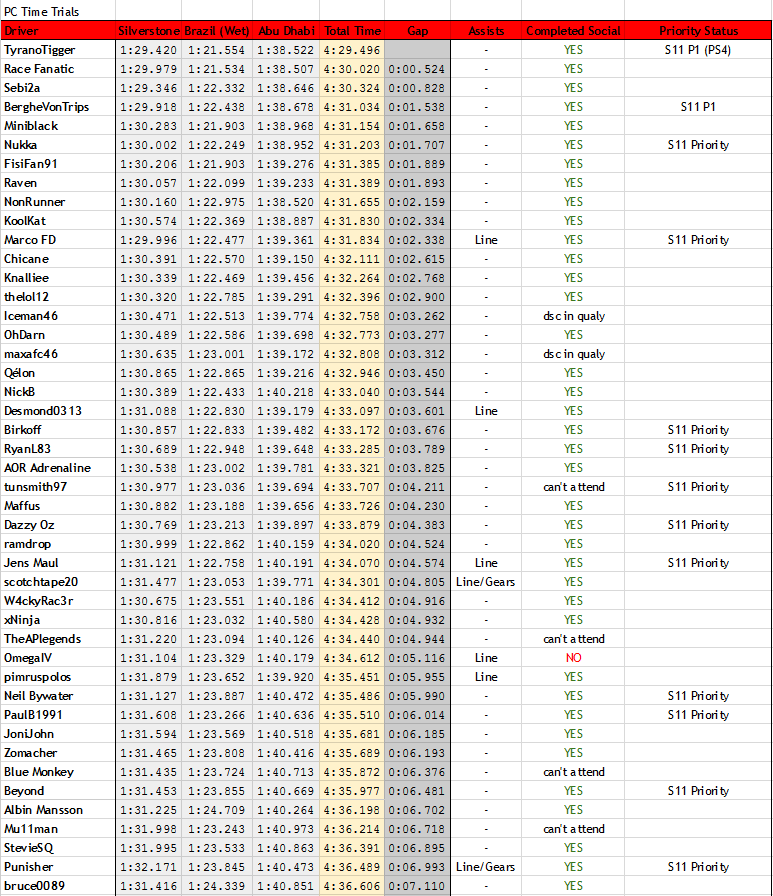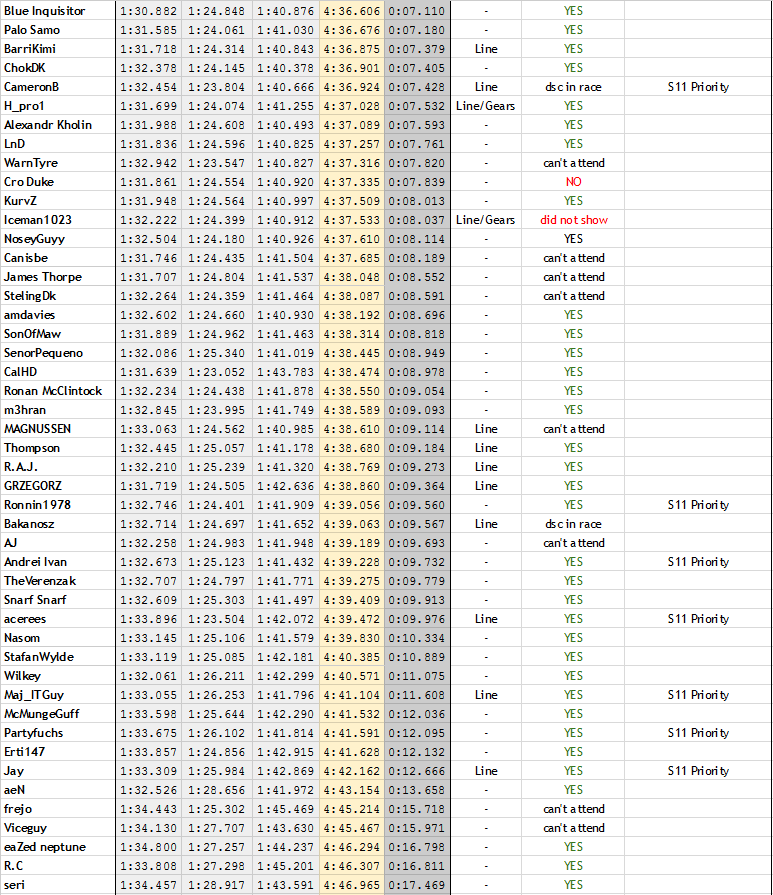 We hope you are pleased with your placement and that you will enjoy racing in our leagues for this season! Make sure you check out your league forum in the near future for more information about your league, to introduce yourself to your fellow drivers, and to get going with the car selection.
Good luck in the season opener on Sunday, and remember to keep it clean!
Last edited: