Former Super Mod
Premium Member
Aug 11, 2016
10,492
3,677
AOR Hype Energy F1 Leagues - Season 2
America - Initial Driver Placements
Below you can find an overview of the league tiers and driver placements for Season 2 of the AOR Hype Energy America F1 Leagues!
61 drivers will fight it out in the American leagues for its 2nd season, featuring a host of new drivers! Thank you to all of the coordinators who have taken time to process these sign-ups and determine the placements of each and every driver to the best of their ability. I am also pleased to say that the PC tier will be broadcasted live by Austin Knight and Curtis Kenyon once again on the official
AOR YouTube channel
for this season!
With one tier on each platform, the placements haven't been paricularly hard to make, although a few drivers have been left out due to not completing the sign-up process properly. The PC platform had more than 20 drivers, which means some have had to be placed as reserves.
League Placements:
Below you can see which league tier each driver has been placed into. Drivers are ordered within each league based on priority in the car selection order (see
here
for more info).
Each league will have its own forum section where more information about the league - including a dedicated thread for car selection - will be posted shortly.
League forums:
Main Leagues:
PC
/
PS4
/
XB1
Colour Key:

Driver Placements: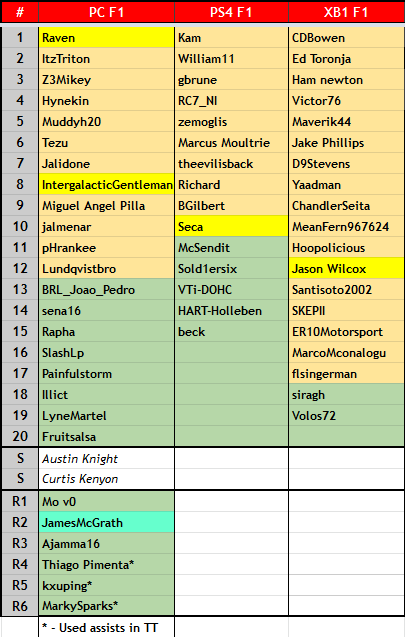 We hope you are pleased with your placement and that you will enjoy racing in our leagues for this season! Make sure you check out your league forum in the near future for more information about your league, to introduce yourself to your fellow drivers, and to get going with the car selection.
Aside from that, good luck in the season opener on Sunday, and remember to keep it clean!
Last edited by a moderator: