AOR Founder (on hiatus)
Staff member
AOR Admin
Jan 12, 2014
17,683
13,614
AOR F1 Leagues - Season 13
PC - Initial League Placements
Below you can find an overview of the league tiers and driver placements for Season 13 of the AOR F1 Leagues on the PC platform!
When deciding the leagues we have had two different methods of placement for drivers, based on their status. Drivers who took part in Season 12 were placed primarily based on their results from that season, although we also did take into consideration general pace shown. For drivers who did not race last season, we used the time trial as our main basis, while also taking into account social race performances and pace in previous seasons (should either scenario apply).
Note that drivers who failed to submit time trial times have not been included in the placements. Should they finish their time trials prior to the first race, they will be assigned to a tier provided there is still space, and will be given last pick in the car selection process. If there is not space in the assigned tier, that driver will become a reserve for the tier.
League Placements:
Below you can see which league tier each driver has been placed into. Drivers are ordered within each league based on priority in the car selection order (see
here
for more info).
Each league will have its own forum section where more information about the league - including a dedicated thread for car selection - will be posted shortly.
League forums:
Tier 1
/
Tier 2
/
Tier 3
/
Tier 4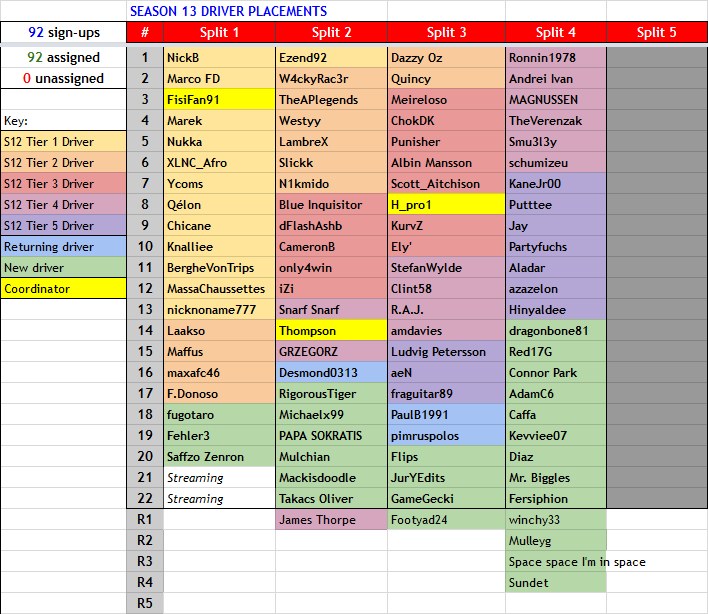 We hope you are pleased with your placement and that you will enjoy racing in our leagues for this season! Make sure you check out your league forum in the near future for more information about your league, to introduce yourself to your fellow drivers, and to get going with the car selection.
Good luck in the season opener on Sunday, and remember to keep it clean!
Last edited: