AOR Founder (on hiatus)
Staff member
AOR Admin
Jan 12, 2014
17,686
13,617
AOR F1 Leagues - Season 14
PC - Initial League Placements
Below you can find an overview of the league tiers and driver placements for Season 14 of the AOR F1 Leagues on the PC platform!
For this season we have by far smashed the record of sign-up numbers on the PC side of AOR, with nearly 200 drivers signed up overall - which has certainly not made setting up the leagues any easier
We have however astonishingly ended up with a grand total of 8 jam-packed main leagues, plus 2 assist leagues!
When deciding where each driver should be placed, we have considered multiple factors: the driver's Time Trial times submitted as part of the sign-up process, the driver's experience and performances in previous AOR seasons, and to an extent the driver's evaluation race performance. Drivers who failed to submit time trial times, attend an evaluation race, or had too high ping in their speedtest, have not been included.
Note: We have slightly limited entries for new drivers to go straight into the top league on the basis that a F1 spot be earned through racing in the AOR leagues. However the very top ranked new drivers have still made it in. For any F2 drivers looking to get into F1 sooner rather than later, there may be opportunities opening for this during the season - if any spots were to open in F1 due to a driver dropping out, we will look down to F2 to fill the spot, in which case priority will be given based on the standings at that time. Even the F2 field is looking incredibly strong this season, so being towards the top of that pile will also be far from easy.
With this being the first league on a new game, with so many drivers to consider, and with the available information not always being fully representative of drivers' true ability over the course of a league season, there are likely to be notable performance overlaps between the leagues, but we hope that each league will be reasonably competitive and that everyone will have someone to battle on track in most races!
League Placements:
Below you can see which league tier each driver has been placed into. Drivers are ordered within each league based on priority in the car selection order (see
here
for more info).
Each league will have its own forum section where more information about the league - including a dedicated thread for car selection - will be posted shortly.
League forums:
F1
/
F2
/
F3
/
F4
/
F5
/
F6
/
F7
/
F8
/
Assist 1
/
Assist 2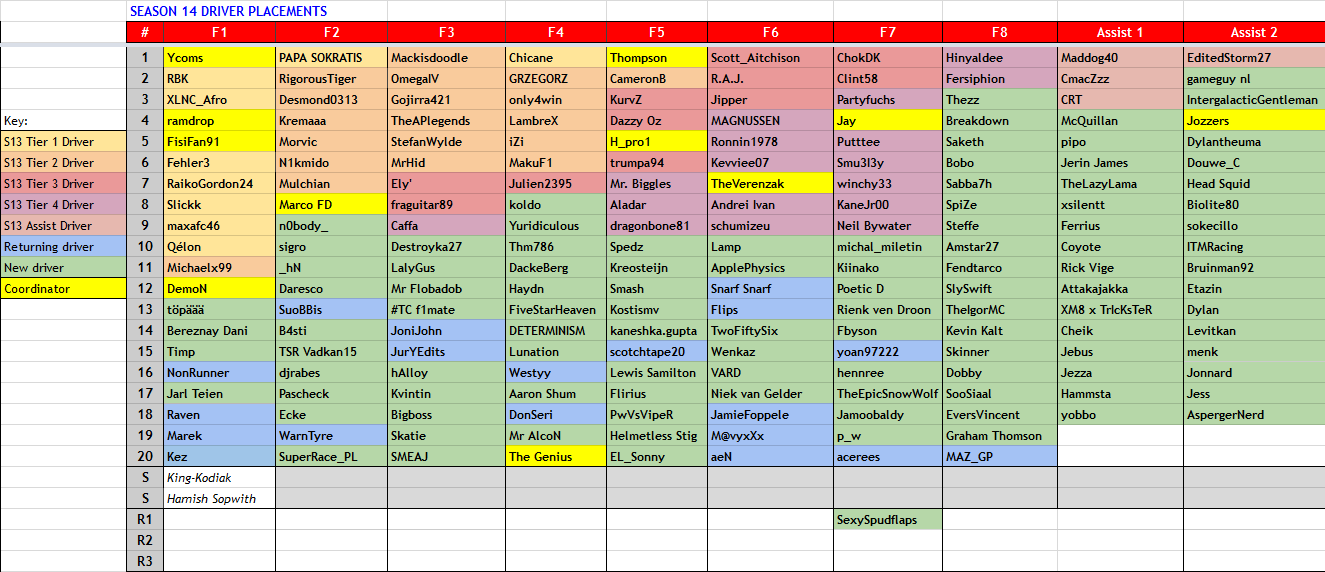 We hope you are pleased with your placement and that you will enjoy racing in our leagues for this season! Make sure you check out your league forum in the near future for more information about your league, to introduce yourself to your fellow drivers, and to get going with the car selection.
Good luck in the season opener on Sunday, and remember to keep it clean!
Last edited: