Former Super Mod
Premium Member
Aug 11, 2016
10,488
3,673
AOR Hype Energy F1 Leagues - Season 16
Oceania - Initial Driver Placements
Below you can find an overview of the league tiers and driver placements for Season 13 of the AOR Hype Energy F1 Leagues in Oceania!
This season Oceania boasts two full grids on both the PS4 and XB1 platforms, and the most amount of drivers from the region participating so far! A huge thanks goes out to
@HarryRyan
for overseeing the leagues for this season, having dealt with the leagues throughout the sign-up process as well. The Oceania leagues will also have live broadcasts featured on the
AOR YouTube channe
l this season, with the top PS4 tier and both XB1 tiers being shown.
The top tier on each platform will be no assists, with assists allowed in the second tier.
The competition for places has as usual been closer than ever with the increased numbers, and as you can imagine, it's impossible for us to make 100% perfect placements with this many drivers to consider, and limited information available to us - and with drivers' pace also varying from circuit to circuit, there will surely be some performance overlaps between various leagues. However, we hope that everyone has ended up in a league where they will feel competitive and have a chance at fighting for good positions if they put the effort in!
League Placements:
Below you can see which league tier each driver has been placed into. Drivers are ordered within each league based on priority in the car selection order (see
here
for more info).
Each league will have its own forum section where more information about the league - including a dedicated thread for car selection - will be posted shortly.
League forums:
PS4 Leagues:
F1
/
F2
XB1 Leagues:
F1
/
F2
Colour key: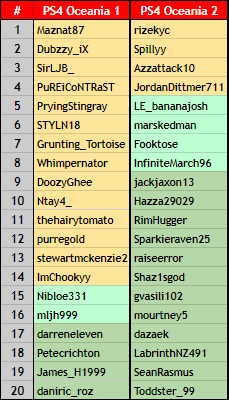 We hope you are pleased with your placement and that you will enjoy racing in our leagues for this season! Make sure you check out your league forum in the near future for more information about your league, to introduce yourself to your fellow drivers, and to get going with the car selection.
Drivers can be moved from their placement at any stage during the first five rounds if they have been placed in a tier which is not suitable for their ability.
Aside from that, good luck in the season opener on Sunday, and remember to keep it clean!
Last edited by a moderator: