Former Super Mod
Premium Member
Aug 11, 2016
10,501
3,683
AOR Hype Energy F1 Leagues - Season 4
Oceania - Initial Driver Placements
Below you can find an overview of the league tiers and driver placements for Season 4 of the AOR Hype Energy Oceania F1 Leagues!
A record 68 drivers will participate in the Oceania leagues for its 4th season, which for the first time includes a tier on the PC platform! Thank you to all of the coordinators who have taken time to process these sign-ups and determine the placements of each and every driver to the best of their ability.
XB1:
The Xbox tiers have mainly been decided based on the drivers' usage of assists, as the top tier does not allow the Traction Control or ABS assists to be used, meaning any drivers who require these have been placed in XB1 F2.
PS4:
The PS4 F1 tier will also not allow the TC & ABS assists to be used, and the drivers who have signed up with these assists have therefore been placed as reserves for now, and can decide whether they want to take part with those assists turned off.
PC:
This will be the first season with a PC league in AOR Oceania! As there are not a lot of drivers signed up, all of these have been placed in the PC F1 league, even if some did not complete their time trials. TC & ABS will be allowed here (in addition to Racing Line & Auto Gears) in order to accomodate as many drivers as possible in the first season. We hope that the 11 drivers assigned will be active and help establish the PC platform in Oceania, and that more drivers will join up during the season!
League Placements:
Below you can see which league tier each driver has been placed into. Drivers are ordered within each league based on priority in the car selection order (see
here
for more info).
Each league will have its own forum section where more information about the league - including a dedicated thread for car selection - will be posted shortly.
League forums:
Main Leagues:
XB1 F1
/
XB1 F2
/
PS4 F1
/
PC F1
Colour Key:

Driver Placements: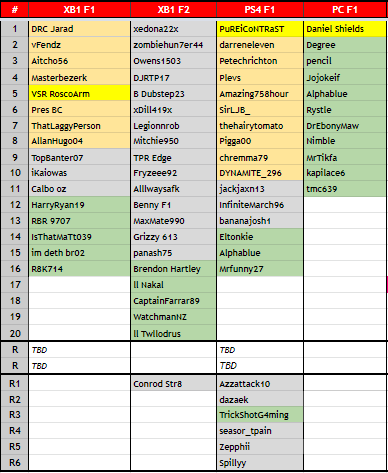 We hope you are pleased with your placement and that you will enjoy racing in our leagues for this season! Make sure you check out your league forum in the near future for more information about your league, to introduce yourself to your fellow drivers, and to get going with the car selection.
Aside from that, good luck in the season opener on Sunday, and remember to keep it clean!
Last edited by a moderator: