AOR PC Assetto Corsa S4 & RallyCross S1 Champion
Premium Member

Introduction:
Welcome to the third season of the DiRT rally leagues, as always taking place across PS4, XB1 and PC. The season will once again be
six rounds
long, with
six stages
for each round for both our two tiers.
Two Splits System:
There are some changes for this season where we have converted to two splits where the top tier is called World Championship and the 2nd tier is called Pro Championship. The WC drivers for this season is the ones that have a super-license (read more in league information about super-license). If you have been given the opportunity for a WC drive we will have contacted you via a message. This thread is therefore the signup for the Pro Championship.
Something we hope you are excited about is that if you show good pace here you will already have a possibility of driving in WC this season with the use of wildcards (read more in league information)
Important Links:
● League Information
● League Rules
● Calendar
Car Choice:
For this season, the following cars, the older 2000s cars, will be available for you to use:
Ford Focus RS Rally 2001
Subaru Impreza 2001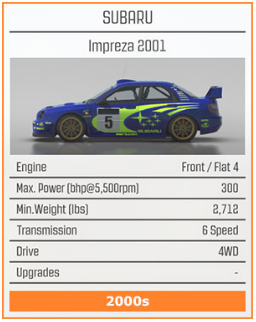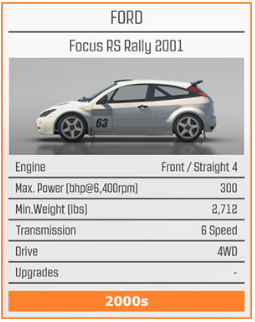 In the World Championsip (the top tier), the newer 2000s cars are being used (Ford Focus RS Rally 2007 and Citroen C4 Rally) and is therefor also the car you'll use if you get a wildcard for the WC.
League Structure:
Each platform will have a league setup on the DiRT site, where they will complete each of the stages. Once the event has finished, the times across all platforms in the tier will be added together to produce the rally standings
Coordinators:
@Race Fanatic
(PC)
@RBOS_00
(PS4)
@DemoN F1
(PS4)
@Tigerkart_22
(PS4)
@The Genius
(XB1)
Signups
Please complete these
two steps
:
1.
Signup by replying to the thread using the following template.
Platform:
[PS4/PC/XB1]
Do you understand the league regulations:
[Answer has to be yes]
RaceNet (dirtgame.com) username (important to be correct):
[Enter username here]
Nationality:
[Enter nationality here]
Car:
[Enter Car choise here]
Team Signups
You can also join a team with someone in the same car by following the below template, the drivers in the team don't have to be on the same platform
Team Name:
Driver #1:
Driver #2:
Car:

2.
Choose the link of your platform and send a request to join the league.
PC -
https://www.dirtgame.com/uk/leagues/league/76255/aor-pro---pc
PS4 -
https://www.dirtgame.com/uk/leagues/league/76314/aor-ps4-s3-pro
XB1 -
https://www.dirtgame.com/uk/leagues/league/76316/aor-xb1-s3-pro
List of signups:
Last edited: