AOR Commentator Guru
iGP Coordinator
AOR Commentator
Hello AOR Season 8 Split 1 drivers! As many of you know I am Justin aka FakeGhostPirate and I am the co-owner of BoxBoxBoxGaming on YouTube along with Mikko aka Smuffler. This season we're taking a back seat to racing and instead turning our focus to providing quality coverage of the Split 1 races throughout the season.
How Does It Work?
First of all, in order to participate, you'll of course need to
record
your races. To keep things easy we're going to make these videos in 720p. You can still record in 1080p but we ask that you downsize the file to 720p before submission.
Next you'll need to get Google Drive or some other form of file sharing. Google Drive is free and holds up to 15GB which should be more than enough for a single race file. Google Drive is a program you download, it syncs to a Gmail account (if you don't have a Gmail account you can make one for free), and it uploads any file which is placed into the Google Drive folder on your computer.
Lastly you'll need to
share
the file with us. When you go to your Google Drive (by going to drive.google.com) you can click on the file you wish to share:

Next you'll need to click the Share button at the bottom right:

Next you'll want to change the permissions to "Anyone with the link" like this: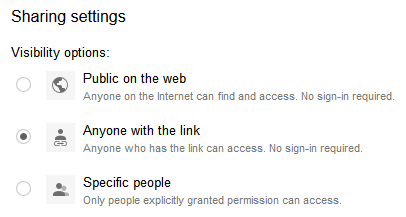 And then last you'll want to "invite" us by typing
[email protected]
into the "Invite people:" field like this:

You can leave the box checked where it says "Notify people via email" or you can just copy and paste the link to us in Steam or here on the forums.
When Do I Need To Upload By?
Good question, we're going to start things off by saying Wednesdays at midnight GMT. The race is done late afternoon Sunday so that gives you more than 72 hours to turn the video into a 720p file and upload and share it. If things run really smooth we might move the cutoff time to Tuesday instead (so the videos come out sooner). Similarly, if it seems like many people are struggling to have their videos ready for Wednesday we can move it to another day. The idea is to have the videos come out about one week after each race.
Why Should I Do This?
Because it's going to be awesome! But in all seriousness it will help promote the league, and also we will provide links to the YouTube channels of everyone who participates. Unless you're Alex Gillon and have over 10k subs it will help generate traffic for your channel as we currently have over 700 subs and growing. We are dedicated to creating quality content and providing promotion to everyone. Also did I mention it will be awesome? Season 7 was one of the most dramatic I've seen and this season could be even better!
What's It Going To Be Like?
It's going to be a lot like what Fisi does for the Xbox side of AOR (we are Fisi fanboys), but the editing and commentary will be done by myself and Mikko. I'm hoping to get views from at least four of the 16 drivers, but the more the merrier! It's probably not possible to get
every
single one of you to participate but everyone is encouraged to submit (and I mean
everyone
) regardless of where you finish or how interesting your race was. There will be side-by-side qualifying comparisons, highlight videos, replays, interviews with drivers, comedy, drama, strippers, beer, and much more.*
What If There Is A Specific Moment From The Race I Want In The Video?
We take requests! If there's an awesome moment of heroic maneuvering or a catastrophic event that you
know
is great for the video then tell us about it! We will be watching the videos and scanning for the best stuff each race but sometimes things slip through the cracks! You can PM us or message us on Steam or just email us (again
[email protected]
) with the information about when and where that special moment happened.
I Have More Questions! You Have Failed Me!
I'm so sorry! Please leave a comment (or Steam, email, or even twitter @FakeGhostPirate) and I will get back to you as soon as possible.
*strippers and beer not guaranteed