Premium Member
Premium Member

Event Information:
●
Date:
Wednesday 20th July 2016
●
Lobby opens:
7:45pm (UK time)
● Event starts:
8:00pm (UK time)
● Event format:
- Qualifying: 15 minutes
- Warmup: 5 minutes
- Race: 39 Laps (1 formation lap + 38 racing laps)
● Weather Conditions:
(Sync-to-race weather progression)
3 weather slots:
- Clear
- Light Cloud
- Heavy Cloud
● In-game time-of-day information (x2 time progression):
- Qualifying time: 22:00
- Race start time: 22:00
- Race finish time: 00:00
Manual Rolling Start Information:
●
Formation Point:
Going under the bridge in the swimming pool section (see image).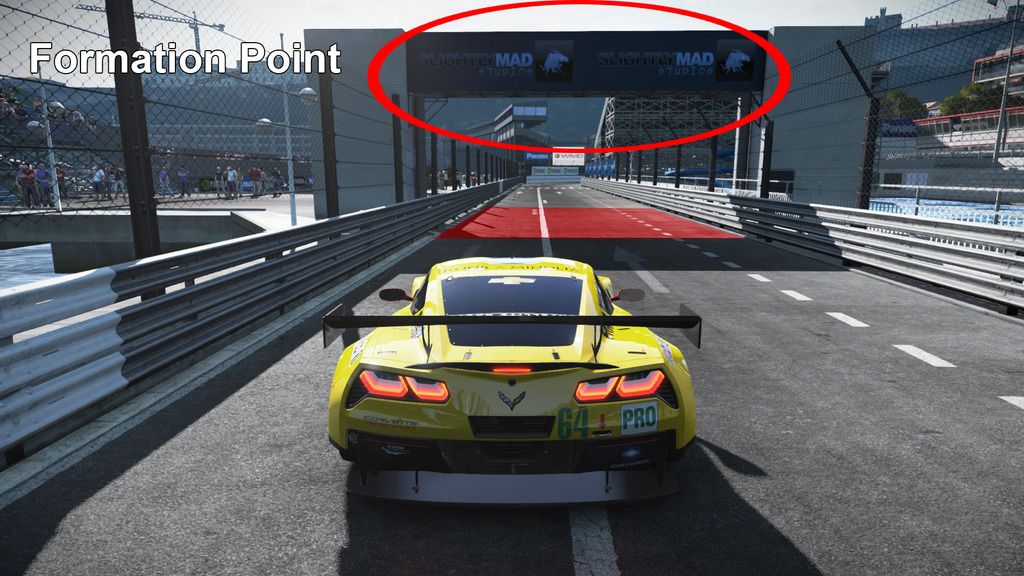 ●
Acceleration Zone:
On the start/finish straight, from the Panasonic bridge (circled on the image below), to the start line.
(
Track map image
)
If you are unsure about the Manual Rolling Start procedure, please read the instructions and watch the explanatory video.
Notices:
● Rules & regulations:
Before you take to the track in the league race, make sure you are fully aware of the
rules
and
regulations
of the leagues. As a driver in our leagues, you are required to do your very best to ensure clean and fair racing at all times.
● No-shows:
If you are unable to attend the race, please inform the League Coordinator and leave a post in this thread BEFORE the race takes place. Note the rules of participation
here
.
● Lobby settings:
If you are unsure about the rest of the lobby settings that will be used, look
here
.
● Save your replay:
As a means of helping the stewards with any enquiries, all drivers are required to save their race replays and keep it stored for at least one week after the race has taken place. If you are involved in an incident or see something during the race that you feel needs to be investigated, you are free to make a
stewards enquiry
- however if enquiries are submitted without replay or race footage available, it is likely we can't do anything.
Useful Links:
●
Results & Standings
●
League Rules
●
League Information
●
Race Calendar

Known absence:
@Moe_yungstar
@Joost
Last edited by a moderator: