AOR Founder (on hiatus)
Staff member
AOR Admin
Jan 12, 2014
17,686
13,616
AOR Project CARS GT3 Leagues - Season 3
PS4 League/Driver Placements
This thread lists the initial league/driver placements for Season 3 of the PS4 GT3 leagues!
Only drivers who have signed up to the season (and completed their time trials in the case of new drivers) have been included in the initial league setup.
Each league will have its own subforum where a Car Selection thread, Team Registration thread and race thread for Round 1 on Wednesday - will be created shortly.
NOTE:
If you have missed the deadline, it will still be possible to sign up during the season, however whether it will possible to get into a league at that point will depend on the amount of spaces available.
How have the leagues been decided?
The amount of leagues has been determined by the amount of drivers that has signed up for this season so far. The PS4 platform will have 2 leagues - GT3 Elite (Tier 1) and GT3 Pro (Tier 2).
Drivers have been ordered and placed into leagues mainly based on their championship position from Season 2 (with the occasional exception). New drivers have been added into the gaps where possible, based on their time trial times.
PS:
Due to the amount of sign-ups exceeding the amount of spaces available in the two leagues, some drivers will unfortunately have to start off as reserve drivers. Being a reserve driver basically means that they will be called on to race if any of the main drivers in their league are unable to attend a race, and they will also be first in line to be offered a main driver spot should one become available during the season.
This has led to us assigning the following leagues: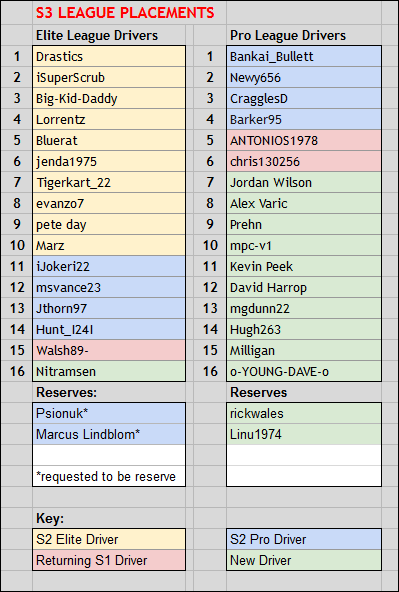 (Big thanks to
@Lorrentz
,
@iJokeri22
and
@Tigerkart_22
for their help with determining the league placements!)
AOR PS4 GT3 Elite League: Forum link

AOR PS4 GT3 Pro League: Forum link
(Tagging all drivers to make you aware:
@Drastics
,
@iSuperScrub
,
@Big-Kid-Daddy
,
@Lorrentz
,
@Bluerat
,
@jenda1975
,
@Tigerkart_22
,
@evanzo7
,
@pete day
,
@Marz
,
@iJokeri22
,
@msvance23
,
@Jthorn97
,
@Hunt_I24I
,
@Walsh89-
,
@Nitramsen
,
@Bankai_Bullett
,
@Newy656
,
@CragglesD
,
@Barker95
,
@ANTONIOS1978
,
@chris130256
,
@Jordan Wilson
,
@Alex Varic
,
@Prehn
,
@mpc-v1
,
@Kevin Peek
,
@David Harrop
,
@mgdunn22
,
@Hugh263
,
@Milligan
,
@o-YOUNG-DAVE-o
,
@Psionuk
,
@Marcus Lindblom
,
@Linu1974
,
@rickwales
)