rFactor2 Coordinator
Staff member
rFactor2 Coordinator
Introduction:
Welcome to Season 1 of the AOR rFactor 2 Formula 1 Championship! This season marks AOR's first endeavor into the top level of league racing on rFactor 2, and following a high level of sign ups we recieved in F2 its sure to be an exciting season ahead.
The league will be co-ordinated by @ChazmR & @Sam Carpenter who have multiple seasons of experience running rFactor 2 F1 Leagues under the Nebula name.
Read below for more info about the league and how to join!
Mod Information:
- 2018 F1 specification:
- 2017/2018 downforce levels
- V6 engine - 990bhp at full power - qualifying/race modes - different fuel mixtures
- 2018 Pirelli styled compounds - SH, H, M, S, SS, US, HS
- Open Setups with parc ferme
- Updated car model
- Custom teams/liveries
- Custom driver numbers
General Information:
What day and time do events start?
Day/Times - GMT/BST (UK TIME):
- Saturday
- Qualifying 1: 6.30PM
- Qualifying 2: 6.42PM
- Warmup: 6:50PM
- Race: 7PM
When will the season start?
The season is scheduled to start on the 24th of March in Australia, and run until the 18th of August with the finale in Brazil. There will various break weeks in this season. The provisional calendar can be found below: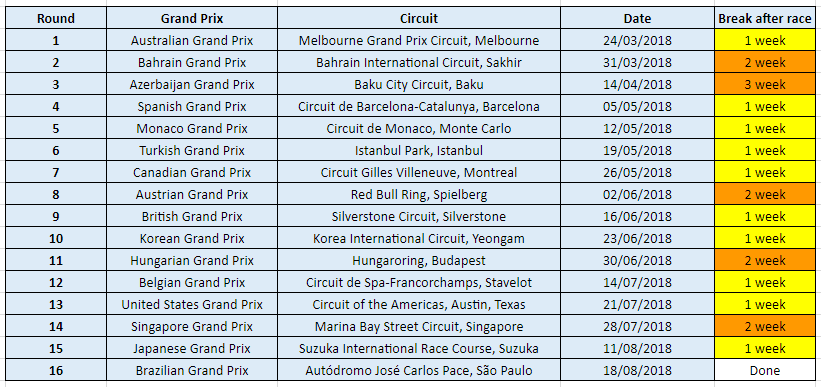 What are the entry requirements?
You must sign up as part of a team, single driver entries will not be permitted (if you wish to post below that you are looking for a team that is allowed) -
All drivers will be required to participate in lobbies on the league's server ahead of the season to show their ability, however, only in exceptional circumstances will this lead to a driver not being granted permissions to sign up to the league.
What assists are allowed? There will be no assists* allowed for this season, in an attempt to create a league with an environment as close to reality as possible.
*with the exception of auto clutch
How do I register as part of a team?
Simply state your team preferences in this thread - the name of your team and name of the driver you're teaming up with. There will be a maximum of 2 drivers per team at any one time. Drivers will not be allowed to change teams unless given permission by the League Coordinators.
How many spaces are available?
40 full team driver spots are available for the season, on race days this will be limited to 30 maximum drivers on the server at once. This potentially means pre-qualifying will take place prior to official qualifying. The slowest drivers from pre-qualifying will be excluded from taking part in the official event that week until the 30 limit is reached.
Can I participate in a 'one off' race?
We will not be accepting one-off 'wildcard' entries for drivers who wish to dip their toe in the water. All drivers who complete must have completed the full sign up process and then wait to be messaged by the coordinators.
Race night structure?
- Two Qualifying sessions followed by a race which is an hour long (70% distance of IRL race)
- Qualifying 1 is 12 minutes long - Top 10 progress to Q2
- Qualifying 2 is 7 minutes long - shootout for pole position
(must use same compound at the start of the race as you use in qualifying to set your fastest lap)
- Use same compounds as real life (2 compounds must be used during race)
More details can be found in the rules thread.
Are setups permitted?
The Championship is open to setup modification.
What is the points system?
The points system will be the same as formula one in real life with 25 points for a win, 18 for second etc.
Are there any recommended files to download?
Essentially, no you do not. All of the tracks and the car for this season are in the package attached to the server, which is all you will need for the duration of the season. You will be required to create/your own custom livery for your car or get our partners to design one for you.
Can we create our own liveries and helmets? Yes you can, there is a livery submission thread that you can find if you click here:
Livery submission thread
Will there be any coverage of the races?
Yes
broadcasting for the league has been arranged, be sure to check out the ApexOnlineRacing Youtube channel for these broadcasts on each race day.
Sign ups:
To be able to sign up to the league, you are required to complete the following template.
●
Full Name
: [Enter your Full Name here - this will be used in game and for the mod creation
●
Gamertag
: [Enter your Steam Name here]
● Nationality:
[Enter your nationality here]
● Have you read and understood the AOR Rules?
[Yes/No]
● Team Name and Teammate
[Enter your team name here if applicable/ Enter the name of your teammate here if applicable]
● Speedtest result:
[Test your connection towards a UK server at speedtest.net and add your result here]
Current Driver/Team Lineups can be found here:
Click Here!