AOR Founder (on hiatus)
Staff member
AOR Admin
Jan 12, 2014
17,686
13,617
Here are the initial leagues for Season 9 of the AOR X360 F1 Leagues, which will be the first season on F1 2014. Due to quite a few of last season's drivers choosing to take a break for Season 9, the leagues have seen quite a reshuffle in terms of drivers, but we have as always try to place drivers into leagues based on results and performances from last season, and new drivers based on pace as far as that has been possible.
We have however also taken into consideration the game's imbalance between wheel and pad drivers, which shows clearly in GP2 and F3 especially, which have both turned into leagues where all drivers use the same type of controller input, as you can see in the overview below. F1, F4 and F5 will however be mixed leagues still.
Note that the bottom two leagues still have spaces available, so it's still possible for new drivers to sign up!
NOTE - TRACTION CONTROL & WEATHER:
●
GP2
and
F3
will run with traction control banned and dynamic weather, as in previous seasons. This is because those leagues currently have only been assigned pad drivers and wheel drivers respectively, meaning that the traction imbalance between the controller inputs won't play a part here.
● For
F1
,
F4
and
F5
- which are all mixed leagues with both pad and wheel drivers - we are undecided on what the best solution is with regards to allowing TC or not. We will start the season off with traction control banned, like in previous seasons, but we will monitor the performance of wheel drivers relative to pad drivers to determine if a change has to be made later on in order to even things out. As long as TC is disallowed, weather will be locked to Clear for these leagues, as wet weather massively exaggerates the traction inequality between pads and wheels.
OTHER INFO:
● The updated assist restrictions can be found
here
.
We will set up a car selection thread for each league shortly, so that the car-picking process can begin. Please keep an eye on your league's forum section to stay on top of what's going on! A 'main thread' with general information about each league has also been set up - you can use that for general chat as well!

League forums:
F1
,
GP2
,
F3
,
F4
,
F5

If you have any questions or concerns with regards to your league placement, please let us know as soon as possible.
SEASON 9 LEAGUES: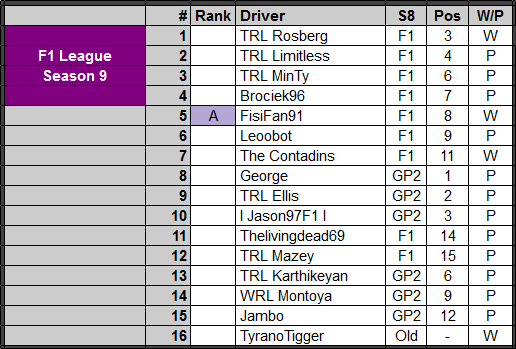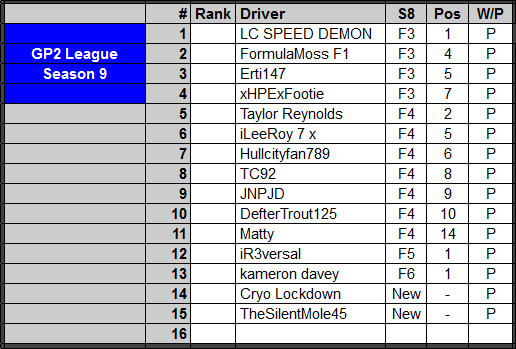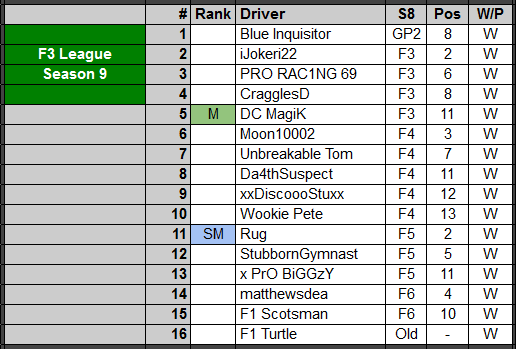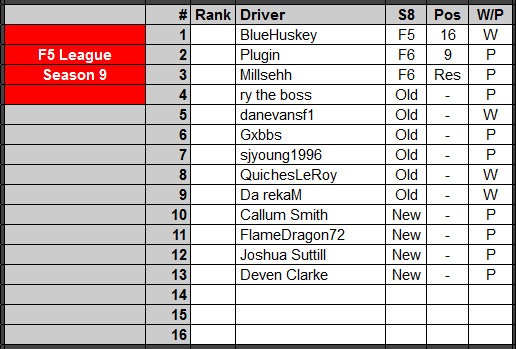 Last edited: